Regular price
$17.00 USD
Sale price
$17.00 USD
Unit price
per
Sale
Sold out
Orders ship within 2 business days.

Awarded Platinum at the 2022 London International Honey Quality Competition
Our flagship product: Seasonal, unpasteurized, small-batch prairie honey that you can scoop like icing. Made by bees, no more, no less. Note: This honey is creamy in texture, but does not contain any cream or dairy. 
Tasting notes
Buttery texture with notes of nougat and vanilla, and a delicate herbal aroma.
Floral source
Alfalfa, sweet clover, prairie wildflowers.
Uses
Ditch the refined sugar and use this sustainable and flavourful sweetener instead. Cakes, pie filling, a spoonful in your coffee or tea, homemade salad dressing, or shake up some main courses with a sweet-and-savory marinade or glaze.
Non-food uses
Apply topically to your face as a mask to hydrate your skin and reduce inflammation. This honey can also be used to treat minor burns and cuts, soothe your sore throat, or as a natural hair conditioner treatment when mixed with olive oil.
Real Honey from Three Foragers

Our honey is harvested between July-August each year near Saskatoon, Saskatchewan, Canada.

Every creamy spoonful is packed with nutrients, pollen, and the floral taste of our prairie flowers because we never pasteurize or blend our honey.

Each batch of honey is harvested from a unique location in Saskatchewan.

Our honey is naturally antibacterial and antimicrobial thanks to the power of the beehive.
Shipping Information

Shipping Cost to Canada and USA:

$12 flat rate shipping for orders below $99.

Free Shipping for orders over $99.
100% Happiness Guarantee

If you're not happy with your purchase, we will replace or refund your first order in full.
View full details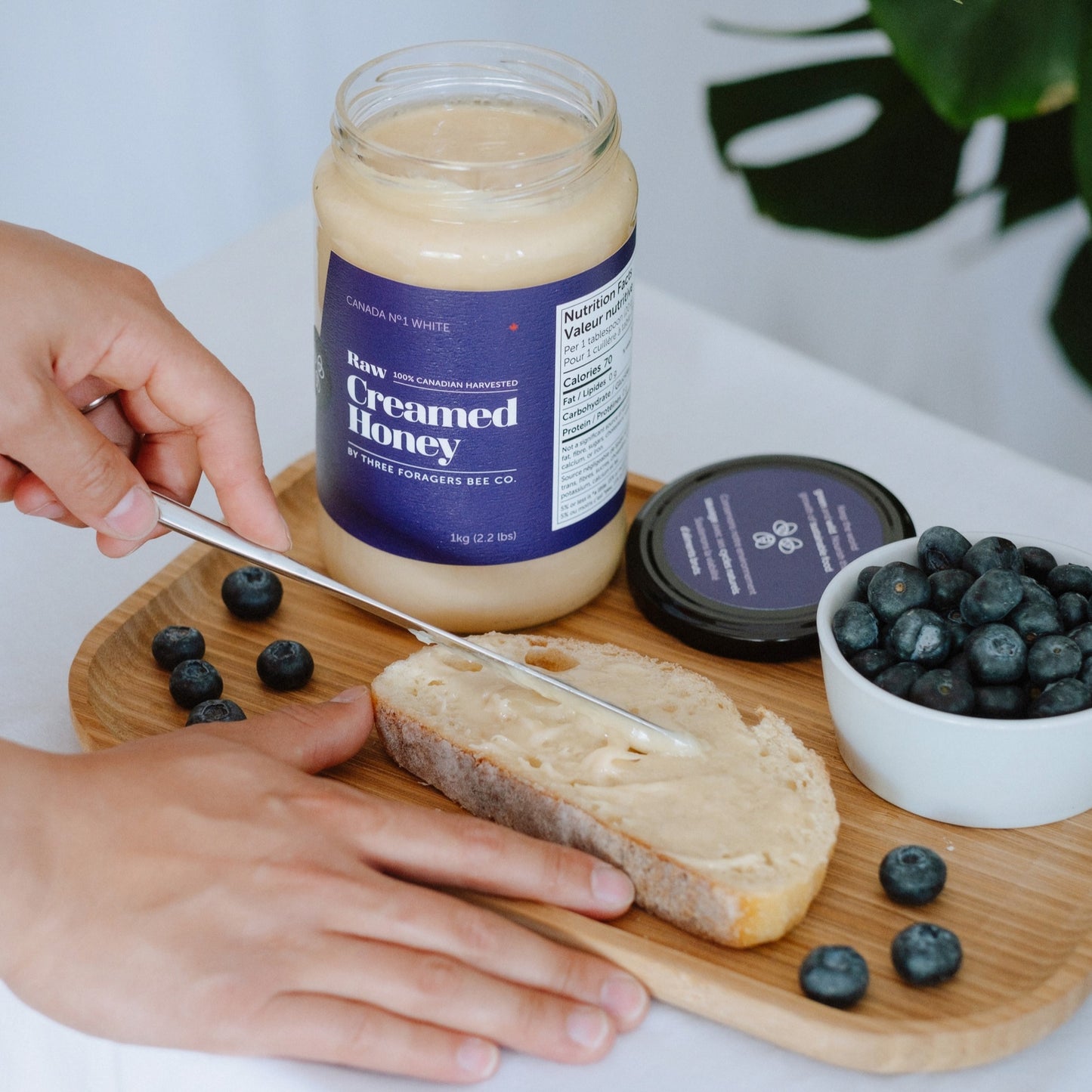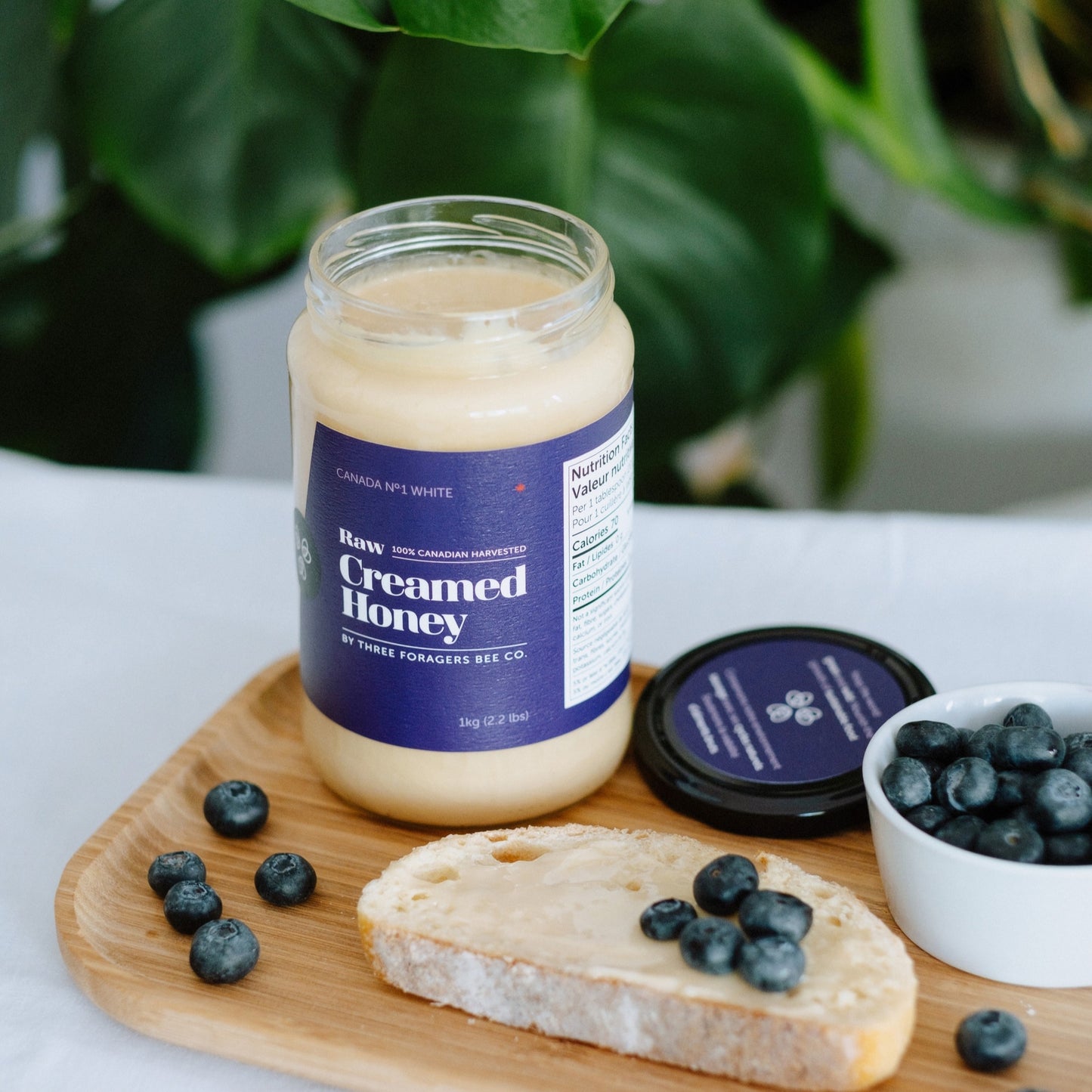 | | Three Foragers | Regular Honey |
| --- | --- | --- |
| Sourcing | From our family farm | Blended from multiple farms or even countries |
| Pure | 100% high quality honey | Sometimes...but can also be contaminated with corn, rice, beet, or cane sugar syrups. |
| Texture | Always smooth and creamy | Thin and liquid, then turns coarse and grainy |
| Nutrients Intact | | |
| Scoopable | | |
Real Honey that captures the taste of the prairies.
As the third most faked food in the world, honey can be confusing to purchase. You want to know that what you're getting is not only delicious, but also healthy and authentic.
We're here to close the gap between you and where your food comes from. The less steps between the farm and your pantry, the more transparent and nutritious your food will be.
The best!
Just like the Saskatchewan honey I remember as a kid with my grandpa!
Hi Bob, so glad that we can bring back those good memories! Thank you for your support!
Fantastic honey!
My family loves creamed honey, and this one is amazing. Delicious and the texture is great!
Thank you Stephanie! It means a lot to us to know you are enjoying it so much!
Great product.
Bought the creamed honey a couple weeks ago. Very tasty. Can use it as a spread or as a sweetener in recipes. Enjoy its health qualities.
Thank you so much for your review William! We are happy to hear that you are getting the most out of your Creamed Honey!
Best honey ever!
I absolutely LOVE this honey! It's the only one I buy and it tastes delicious. Highly recommend!
Thank you Sharon!! We are so happy to be your honey of choice :). You're the bee-est!
Excellent honey
This honey is excellent, it is the best honey I've had the pleasure of eating.
Thank you Susan! We are thrilled that you are enjoying the honey so much. We appreciate your support!