Regular price
Sale price
$12.00 USD
Unit price
per
Sale
Sold out
Orders ship within 2 business days.
Your afternoon moment of peace. Sweeten your hot or iced chai latte with our pure, unpasteurized honey infused with warming, aromatic spices.
Put this in: oatmeal, hot cider, fresh bread, and of course chai lattes!
Ingredients: Pure Canadian Honey, Organic Cardamom, Ginger, Nutmeg, Cloves.
Real Honey from Three Foragers

Our honey is harvested between July-August each year near Saskatoon, Saskatchewan, Canada.

Every creamy spoonful is packed with nutrients, pollen, and the floral taste of our prairie flowers because we never pasteurize or blend our honey.

Each batch of honey is harvested from a unique location in Saskatchewan.

Our honey is naturally antibacterial and antimicrobial thanks to the power of the beehive.
Shipping Information

Shipping Cost to Canada and USA:

$12 flat rate shipping for orders below $99.

Free Shipping for orders over $99.
100% Happiness Guarantee

If you're not happy with your purchase, we will replace or refund your first order in full.
View full details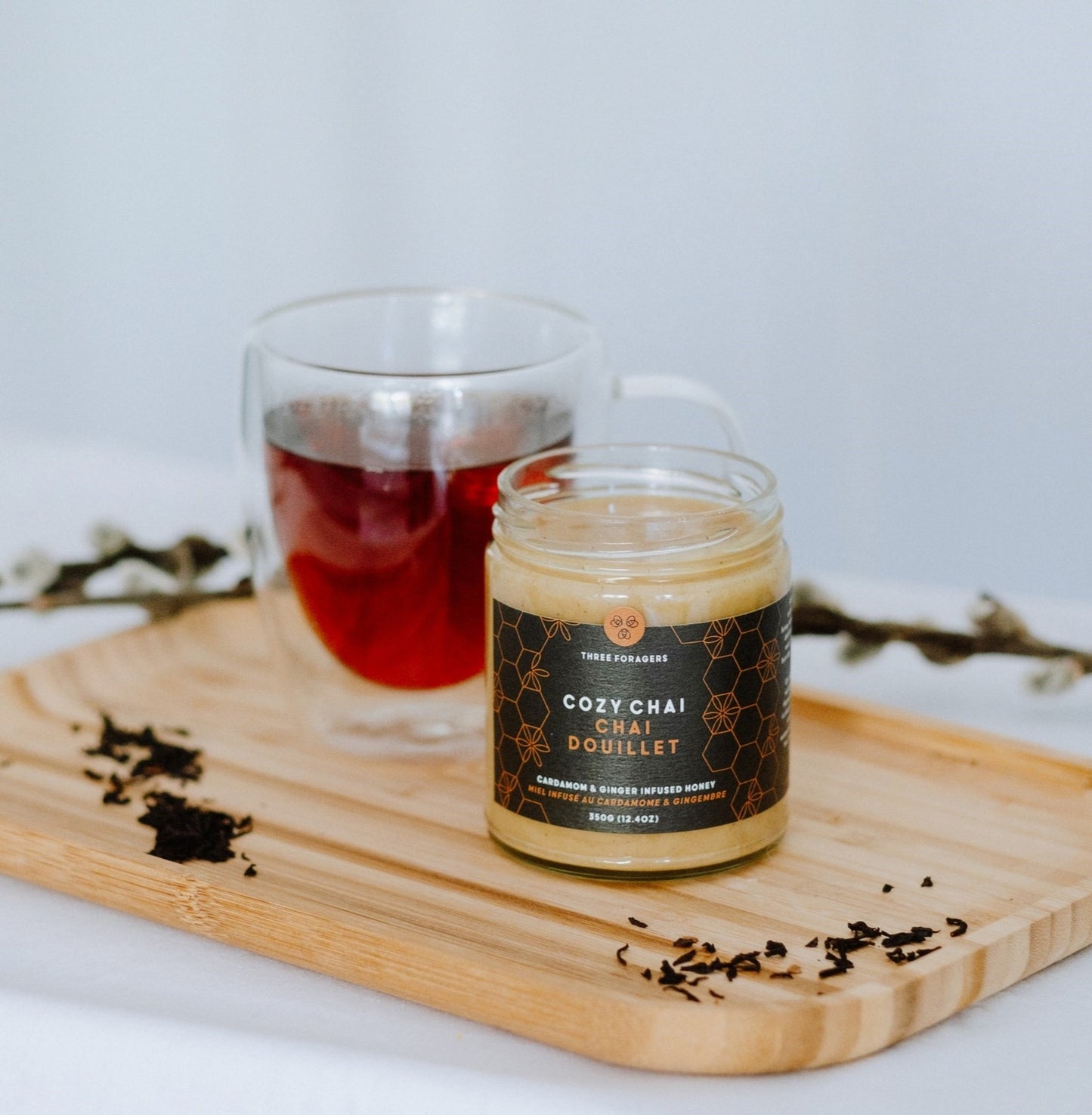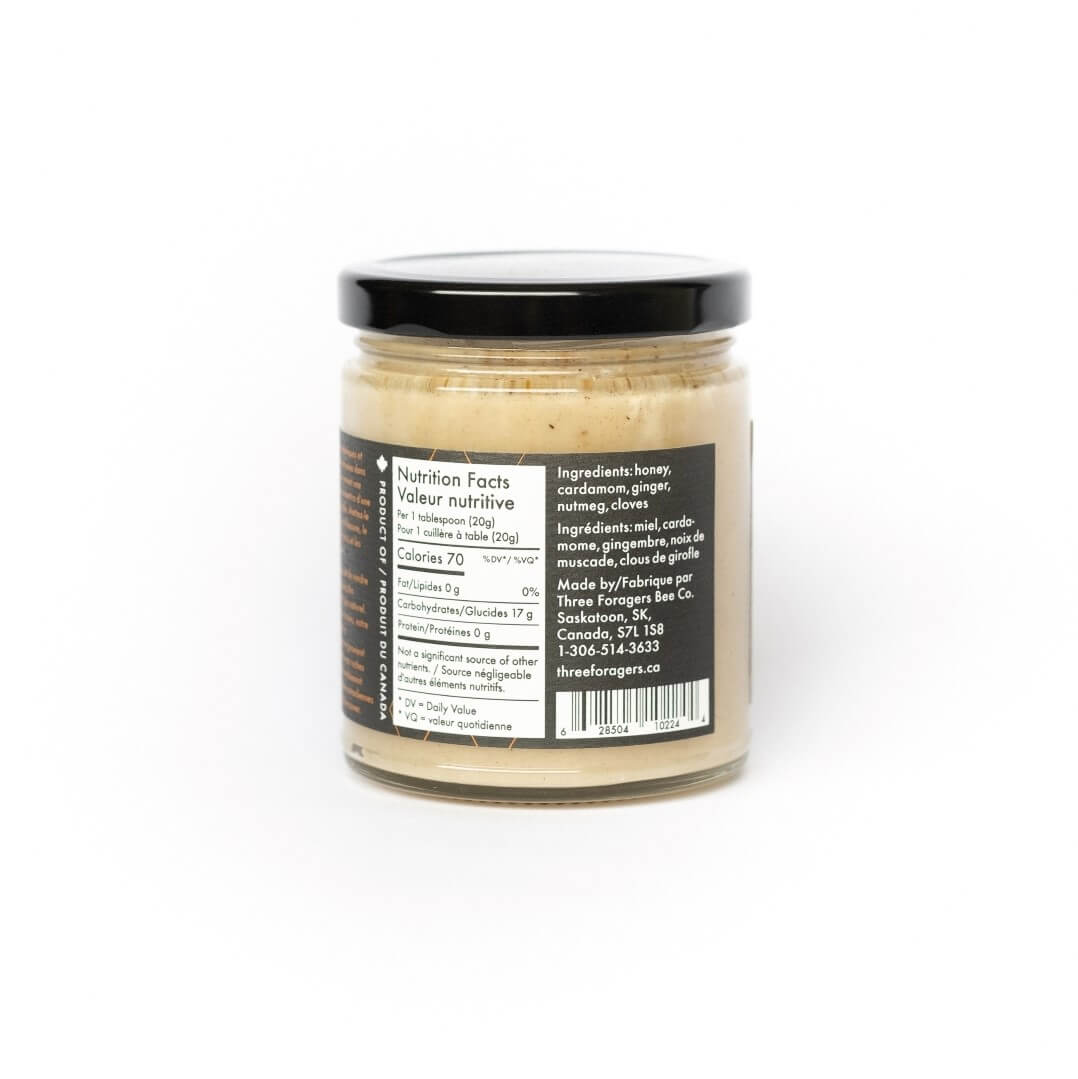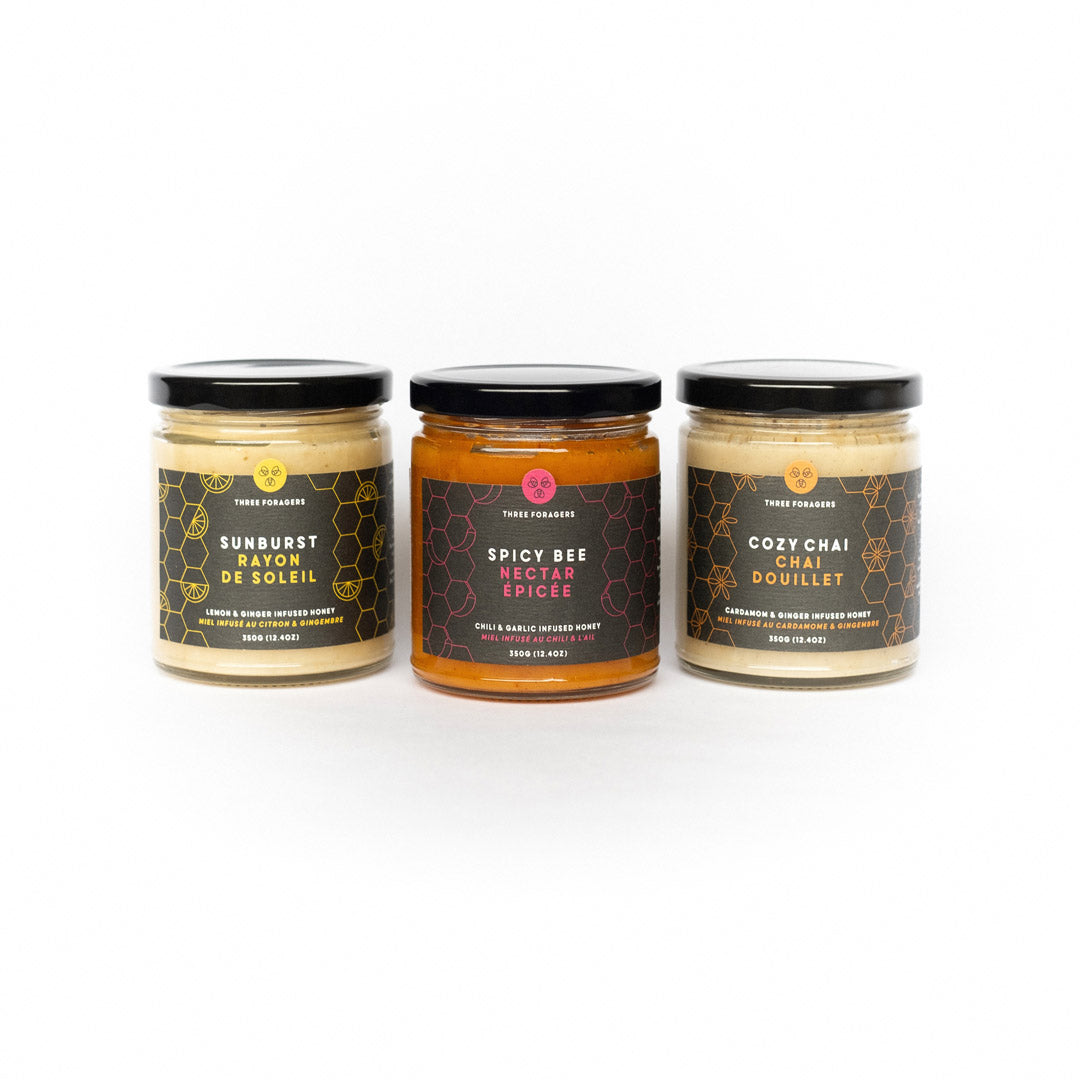 Real Honey that captures the taste of the prairies.
As the third most faked food in the world, honey can be confusing to purchase. You want to know that what you're getting is not only delicious, but also healthy and authentic.
We're here to close the gap between you and where your food comes from. The less steps between the farm and your pantry, the more transparent and nutritious your food will be.
Magical Product
Really enjoyed this honey so much!!! It's truly special and definitely made with love. I enjoy my tea time daily with both honeys that I have purchased and will definitely be buying more when I am out!!! Thank you so much for your delicious honey!!! ❤️☀️❤️
Thank you Sarah-Jean! We are so glad to be a part of your tea time ritual now :).
Amazing
bought a couple jars before I found that I was pregnant. Loved it in my chai tea as well as just regular tea
Hi Tanisha, thank you so much for your feedback. We're thrilled that you had a chance to enjoy the honey and congratulations on your pregnancy!
Our raw honey is safe to eat during pregnancy because as adults, our digestive and immune systems process the honey without passing on any risk to the baby, but we always recommend consulting your doctor for final advice.
We always recommend do not feed any honey to children under 1 years of age until their digestive and immune systems have developed.
We wish you a happy and healthy pregnancy!
Love the chai honey
It is delicious on toast but makes a beautiful hot drink when used with milk. Such a delicious product.
Thank you Willo! We love that you are enjoying the honey in so many ways! We hope it brings you many cozy days!
This review has no content.
This review has no content.
added this to a chai-flavoured gift box! t...
added this to a chai-flavoured gift box! terrific addition!
this was so decadent dabbed on top of a bi...
this was so decadent dabbed on top of a bit of cake! i can't wait to try it in various teas!! love the smooth texture too!