Regular price
Sale price
$25.00 USD
Unit price
per
Sale
Sold out
Orders ship within 2 business days.
Comb honey is the purest treat on earth - straight from the hive and only touched by bees. This natural delight is 100% edible and best enjoyed with cheese, nuts, on a baguette, or by the spoonful! Comb honey makes for a sweet feature on your charcuterie board and is the perfect gift for the adventurous foodie or honey lover in your life.
As the rawest form of honey, comb honey is completely unprocessed and is preserved in the same condition that the bees created. The light beeswax combs are filled with delicious pure honey. Eat honey as naturally as our honeybees do!
Due to the alfalfa, sweet clover, and wildflowers that this honey is derived from, the honey may be solid at time of purchase. Just like our bottled raw honey, this comb honey naturally solidifies after being taken out of the hive. To soften, place the container on a sheet pan in your oven with the oven light on (but no heat) for a few hours and the honey will turn back into a gooey delight!
Real Honey from Three Foragers

Our honey is harvested between July-August each year near Saskatoon, Saskatchewan, Canada.

Every creamy spoonful is packed with nutrients, pollen, and the floral taste of our prairie flowers because we never pasteurize or blend our honey.

Each batch of honey is harvested from a unique location in Saskatchewan.

Our honey is naturally antibacterial and antimicrobial thanks to the power of the beehive.
Shipping Information

Shipping Cost to Canada and USA:

$12 flat rate shipping for orders below $99.

Free Shipping for orders over $99.
100% Happiness Guarantee

If you're not happy with your purchase, we will replace or refund your first order in full.
View full details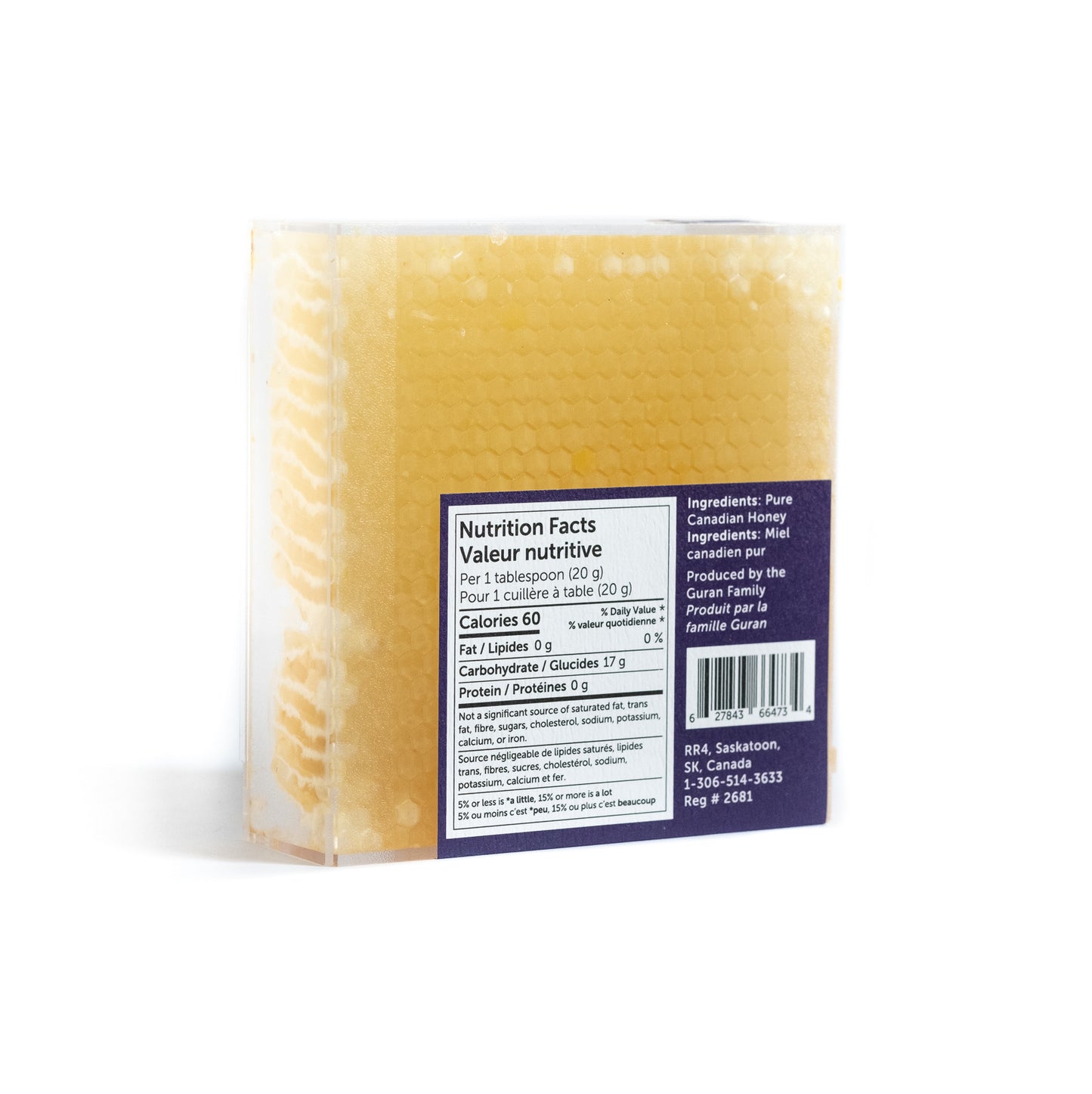 Real Honey that captures the taste of the prairies.
As the third most faked food in the world, honey can be confusing to purchase. You want to know that what you're getting is not only delicious, but also healthy and authentic.
We're here to close the gap between you and where your food comes from. The less steps between the farm and your pantry, the more transparent and nutritious your food will be.
Very fast shipping and my honey comb was d...
Very fast shipping and my honey comb was delicious.
Great product and beautiful packaging. So...
Great product and beautiful packaging. So delicious, it gives a unique flavor to many desserts. Addictive too :) Will buy again for sure. Thank you
Was looking for a softer, liquid comb. But...
Was looking for a softer, liquid comb. But delicious nonetheless!! Thank you