Regular price
Sale price
$12.00 USD
Unit price
per
Sale
Sold out
Orders ship within 2 business days.
Taste a summer's worth of sunshine with this power burst of raw honey, lemon, and ginger. This bright, citrusy honey is perfect for soothing your throat or adding a burst of flavour to your savoury dishes.
Our honey is harvested and packaged in small batches to preserve the uniqueness of our prairie honey. Unpasteurized and unblended, we make sure that all the natural benefits of our honey shines through.
Put this in: tea, lemonade, cocktails, yogurt, roast chicken, or salad dressings!
Ingredients: Pure Canadian Honey, Crystallized Lemon, Ginger.
Part of our new Infused Honey collection.
Real Honey from Three Foragers

Our honey is harvested between July-August each year near Saskatoon, Saskatchewan, Canada.

Every creamy spoonful is packed with nutrients, pollen, and the floral taste of our prairie flowers because we never pasteurize or blend our honey.

Each batch of honey is harvested from a unique location in Saskatchewan.

Our honey is naturally antibacterial and antimicrobial thanks to the power of the beehive.
Shipping Information

Shipping Cost to Canada and USA:

$12 flat rate shipping for orders below $99.

Free Shipping for orders over $99.
100% Happiness Guarantee

If you're not happy with your purchase, we will replace or refund your first order in full.
View full details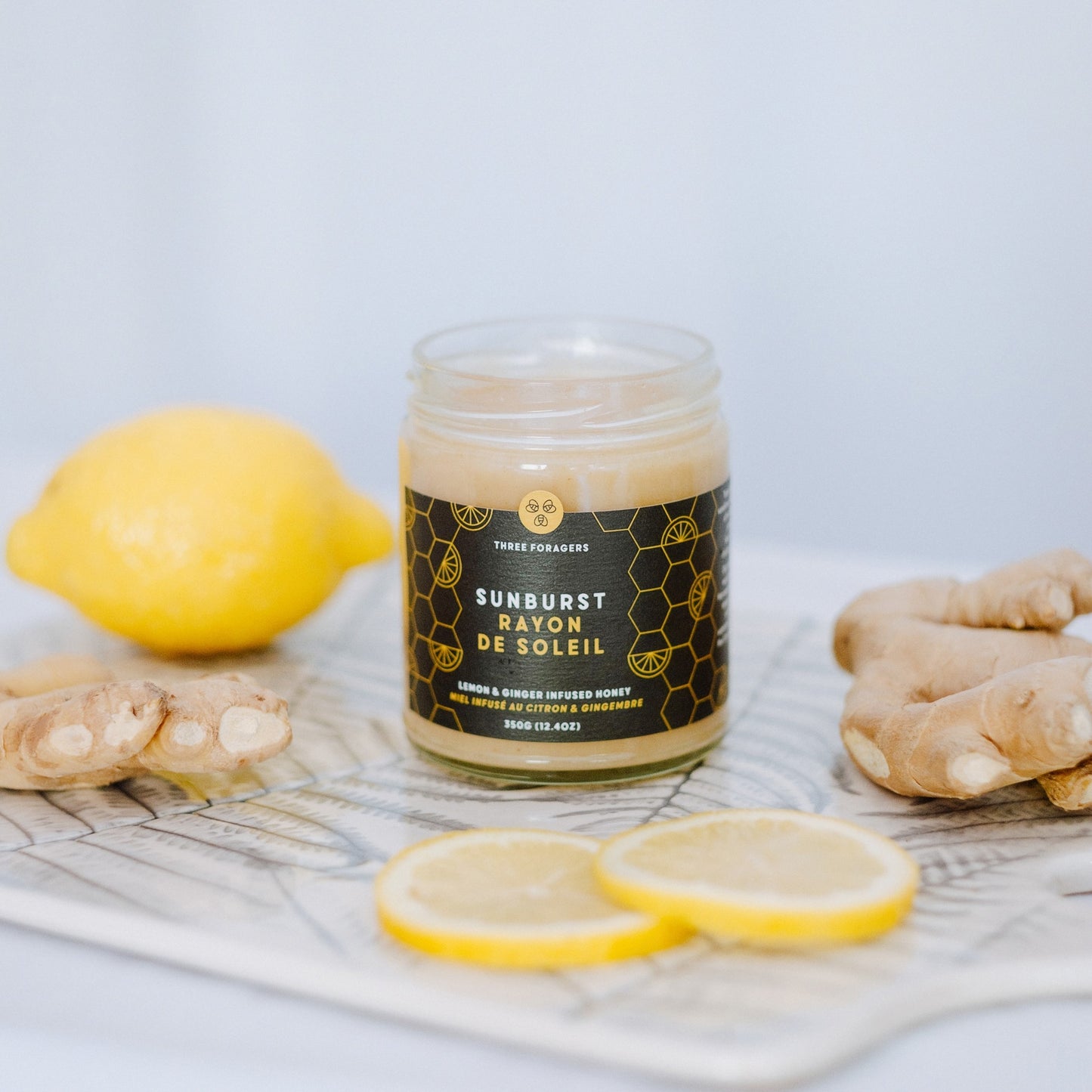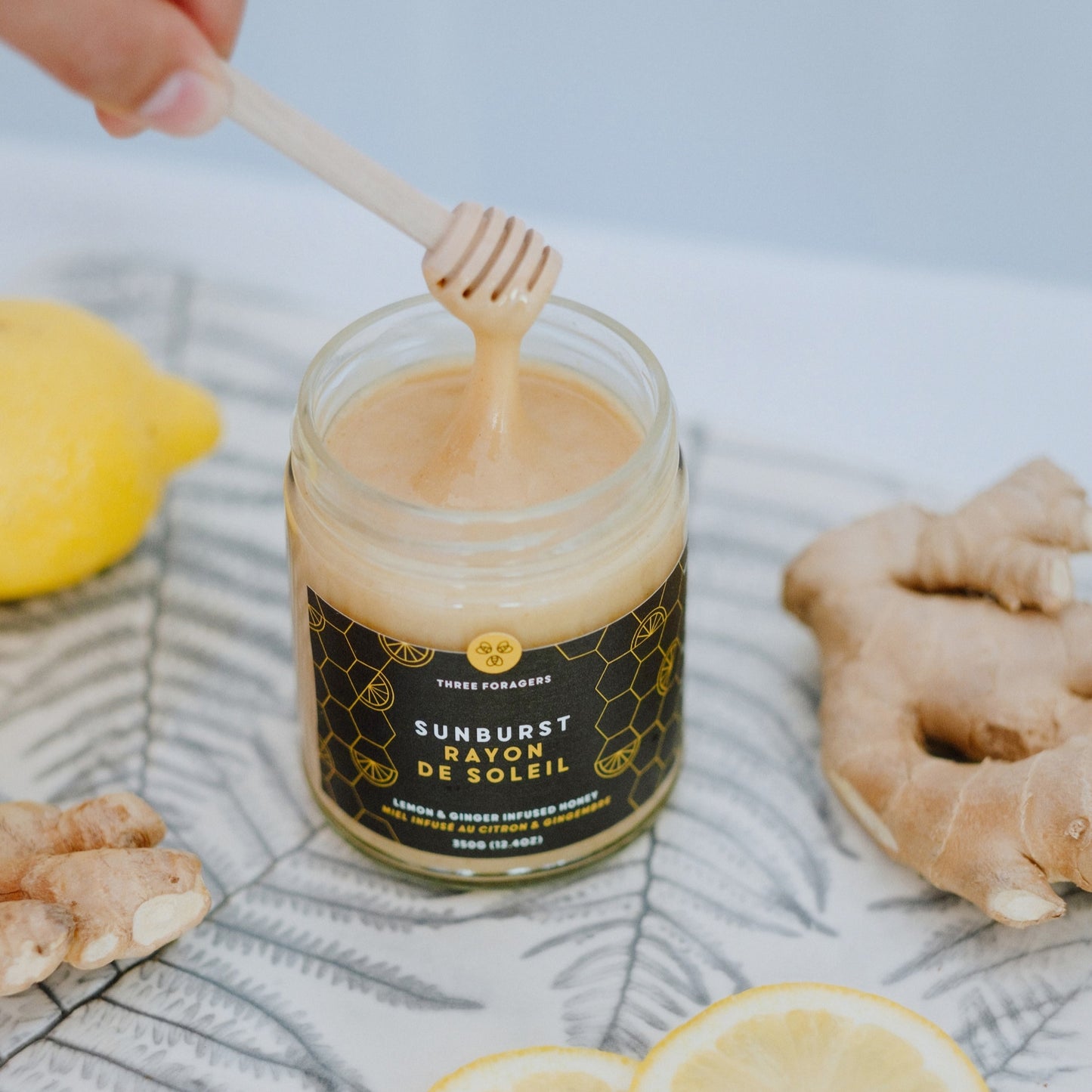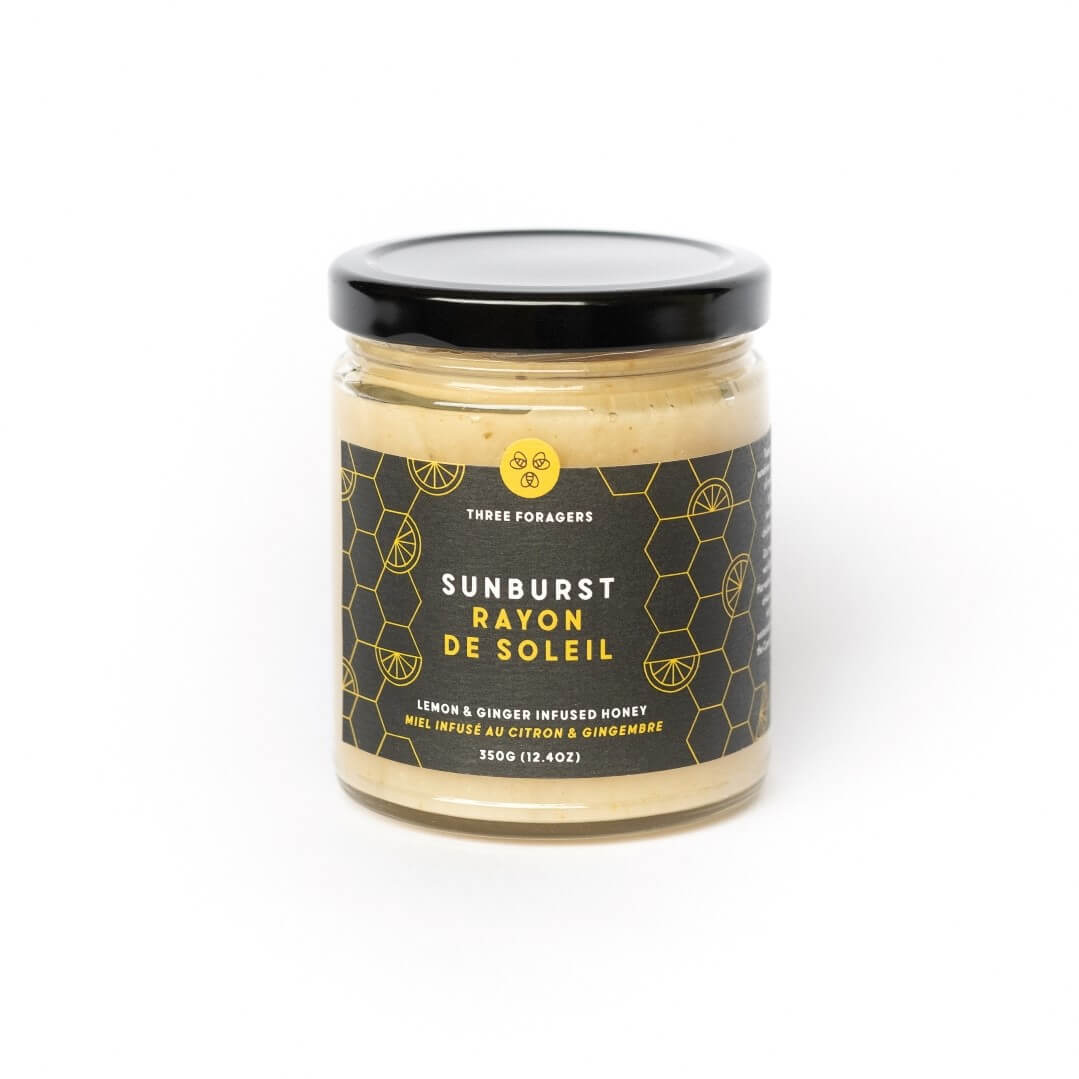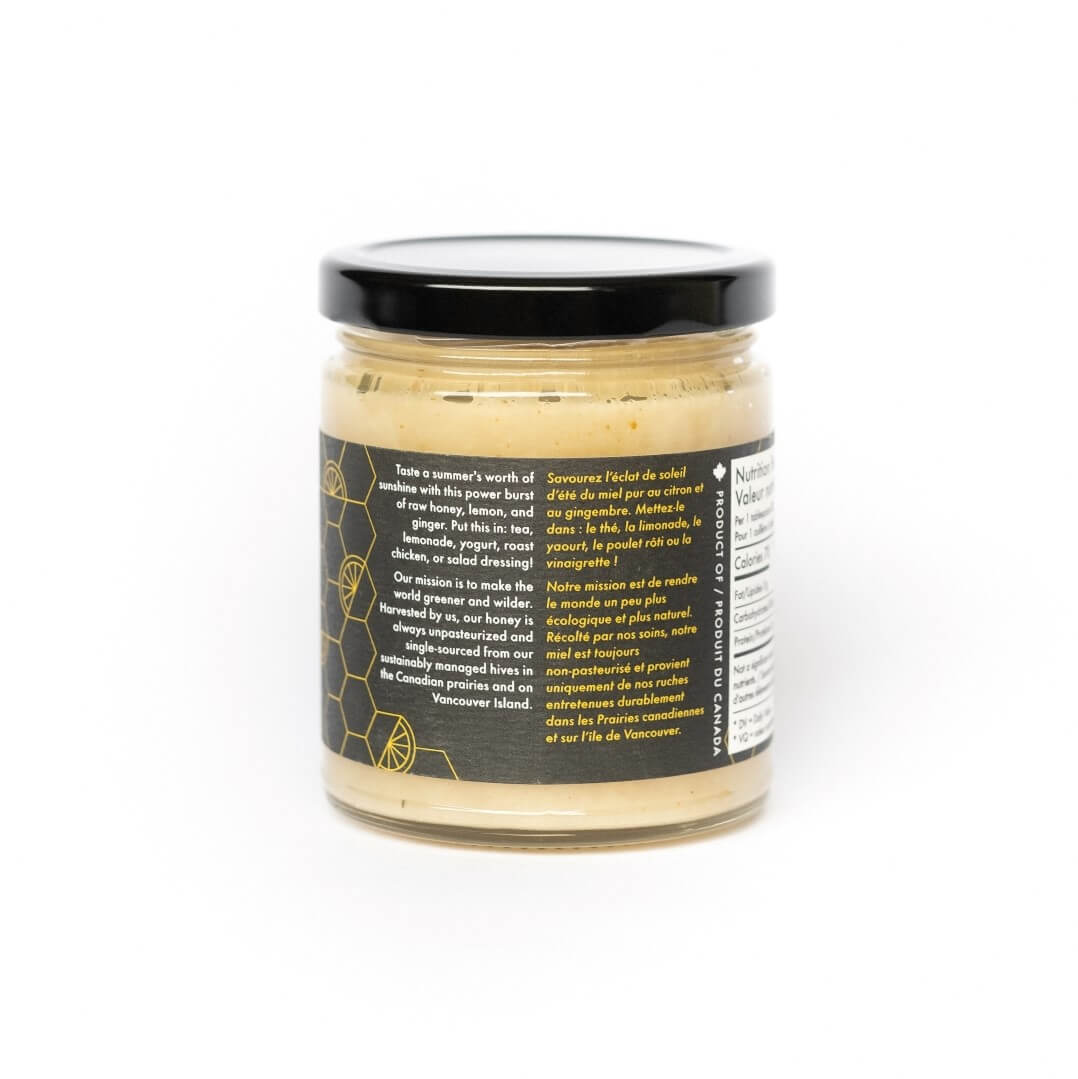 Real Honey that captures the taste of the prairies.
As the third most faked food in the world, honey can be confusing to purchase. You want to know that what you're getting is not only delicious, but also healthy and authentic.
We're here to close the gap between you and where your food comes from. The less steps between the farm and your pantry, the more transparent and nutritious your food will be.
The taste of honey
First I would like to say your honey is great tasting the ginger honey is awesome I even used it on my gums when I had a tooth aches helped so much, now for the lemon honey love the taste I drink it at night with warm water and it is so soothing and relaxing as a tea, I am happy I read and ordered and will be ordering again soon.
Sunburst Lemon and Ginger Infused Honey
So good!
Love love the sunburst lemon and ginger infused honey. So hard not to just eat it off the spoon. The lemon flavour comes thru beautifully. I am enjoying it this summer in a hibiscus iced tea.
Thank you Suzanne for your review! Love the idea of making hibiscus iced tea with the Sunburst honey - this is next on our agenda!
Love my honey
Great service and product. Perfect for my morning tea.
Nikki, thank you for your feedback! We're honored to be part of your morning tea routine! <3
Not bad on it's own, but found the perfect match
I add it to a steeped cup of English Breakfast...heavenly!!
Hi Twyla - that sounds like a dreamy combo! Thank you for sharing and for your feedback!